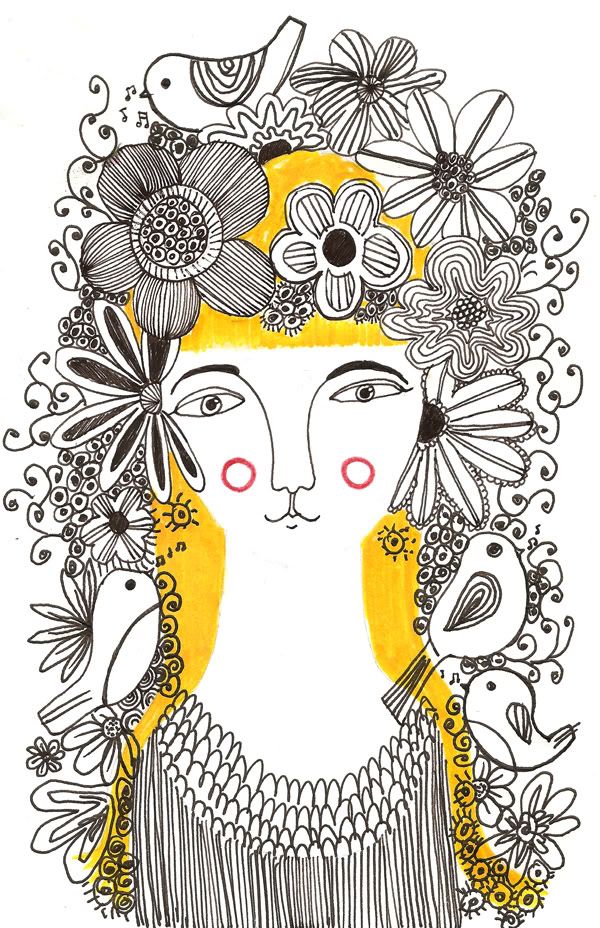 Hello!
How are you all? Thought I would introduce you to 'flowers in my hair', an illustration I finished tonight after it had been sitting around in my pile of art work that was to be finished off. She's looser in style with a little hint of colour and reminiscent of Mexican folk patterns.
This week has gone quick and I'm glad that the weekend is a little closer. Tomorrow I will be attending my Diploma in Marketing class, there's not many sessions to go and I've really enjoyed the course. I'm up to date will all my assessment submissions having done my homework last night :-) I also caught an interesting documentary on SBS yesterday evening called
Tibet:Murder In the Snow
, it's definitely worth a watch. It tells the tale of innocent Tibetan pilgrims who come under gun fire from Chinese border patrol resulting in a young nun being shot dead. From afar a group of Western hikers document the action in disbelief. You can catch the full documentary on Youtube but here is a trailer below (if you're reading through my
Facebook Fan Page
you probably won't see the video embedded).
Oh one more thing, remember the last post of the commission I drew for two best friends? If not you can see it
here
. The receiver of my Need a Tea Party commission loved it and even shed a tear because she was so touched that it represented their friendship so well. I was very happy to hear that I could put a big smile on her face!
Chat soon!